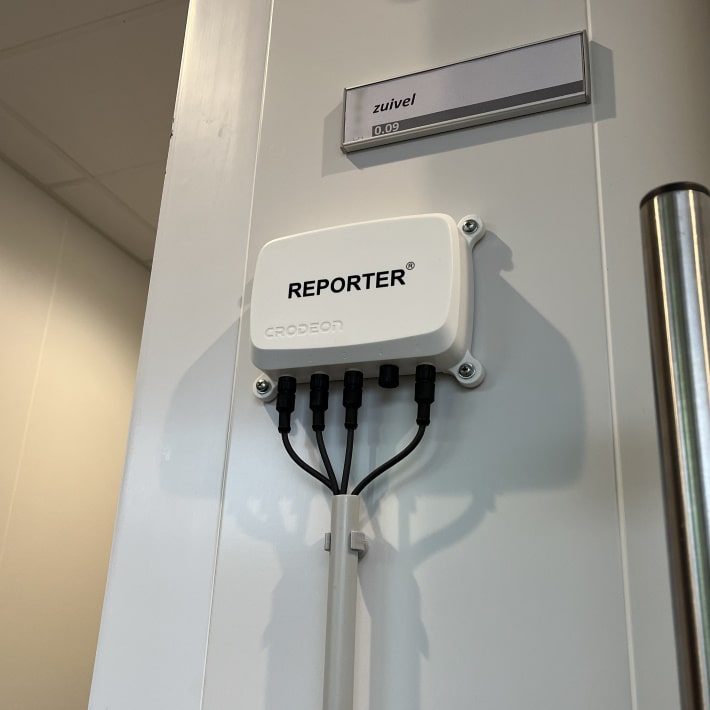 FOR RESTAURANTS & FOOD COMPANIES
Simple and reliable cold room monitoring
Finally! An easy solution for wireless temperature monitoring in cold rooms and freezers. Restaurants, food manufacturers, and hospitality kitchens are rapidly falling in love with Reporter®.
At Crodeon we cracked the code. One simple wireless sensor device with four wired sensors. Technical knowledge is not required! Order today and keep your industrial cooling installations & perishables protected.
Your data in the cloud
Measurements are stored on the Crodeon Dashboard. Custom software installation is unnecessary, so are manual back-ups.
Live data on pc, tablet and smartphone
Automatically logged historical data + Excel export for HACCP
Relieve your staff of the arduous task of temperature tracking
Alarm notifications through text message, email or voice call
Configure your alarms remotely
Why your food company needs this
Food safety

Temperature monitoring is a crucial part of HACCP. Automatic and periodical temperature monitoring is often mandatory and requested by your client.

Saving time

Automated temperature registration comes with plenty of advantages compared to manual logging on paper. No manual work and no missing data due to human error.

Prevent losses

Monitor your cold room from afar and receive alarm notifications for deviating temperatures or a power cut. You'll be sure to save money & reduce food waste.
Bye bye manual logs

When food safety inspection shows up you want to be prepared. Nothing is worse than handing over a manually scribbled-down temperature log full of missing data points.

Manual data logs are time-consuming, labour-intensive, and prone to human error.

Hello automation!

Save time and let your staff take care of the tasks that are actually important to let your company grow and flourish.

Reporter with automatic temperature monitoring for cold rooms helps you to be HACCP compliant without requiring any extra time or effort from your busy staff.
Get your quote

A system that automatically logs temperature is a must. Easily calculate your own quote within minutes. Save money by installing hardware by yourself. Technical knowledge is not needed.

Get your personalised quote

Webinar (20 min.) - Dutch only

Our solution expert Jonathan explains how Crodeon helps food companies and restaurants to save time and money through cold room monitoring.

Rewatch the webinar
Happy customers
KuNa Fish

"After a long and difficult search for a simple and good working system, we finally ended up with Crodeon. Reporter® has fully met and exceeded our expectations."

Brasserie Pakhuis

"Our Reporter® allows us to confidently monitor several different cold rooms in the restaurant. Truly a very good investment."

Barla Food

"The system is easy to use, effective and affordable. I would definitely recommend Reporter® to other food companies"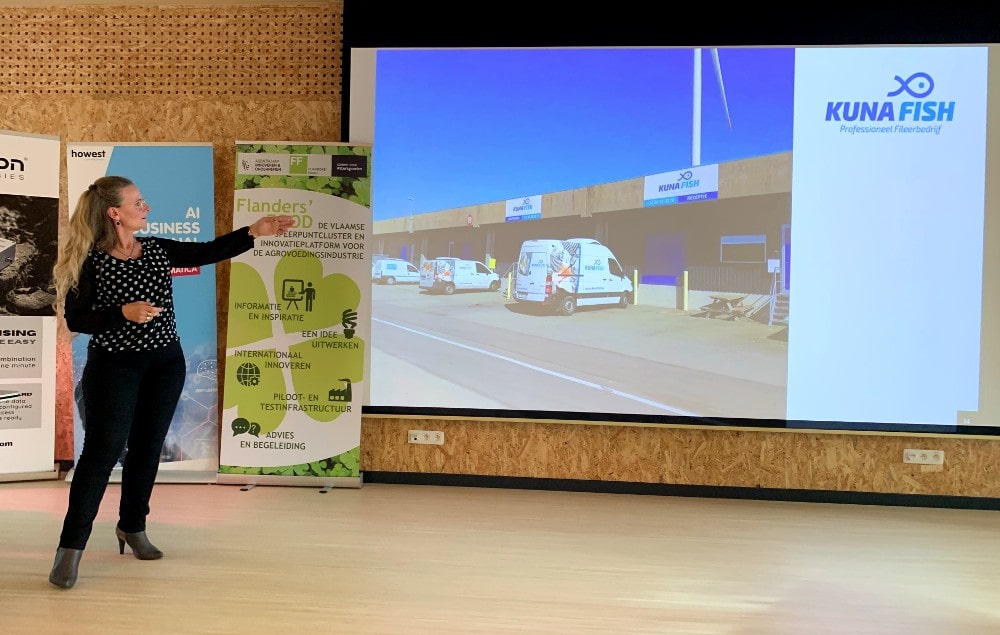 Nadine Demandt, KuNa Fish, has put her trust in us since the early days. Her fish processing room still sports Reporter's very first edition!
In this interview she tells us all about her personal experience with the system.
Read Nadine's story →
Get your personalised quote
Fill out the form below and tell us about the number of cold rooms or freezers you wish to monitor. You'll receive your personalised quote within 24 hours.
Need info right now? Call our Solution Expert Jonathan +32 (0) 474 09 77 05. Talk to you soon!
FAQ
Can I install Reporter® by myself?

Assembling and starting up Reporter only takes a few minutes. The device is already pre-configured and set up when you receive it. All you have to do is log on to the Crodeon Dashboard and connect the sensors. The Dashboard allows you to switch on your Reporter with 1 click to start measuring. This is also where you can adjust some settings, such as the measurement interval and the alarm limits. Reporter's main goal is to save you time, not waste it. That is why Crodeon ensures that start-up and activation are carefree and fast. As a customer, you should not have to worry about software, connectivity or hosting.
What cable length does a sensor have?

Each temperature sensor cable is 5 metres long. Sensor cables can be extended with standard extension cords of 5, 10 and 20 metres.
Do I need WiFi?

No WiFi is needed. Reporter is equipped with an industrial SIM card to connect to the internet via the GSM network (NB-IoT, Cat-M and 2G). So you don't need to provide WiFi or Ethernet. The SIM card is pre-installed by Crodeon so you don't need to purchase a subscription yourself either.
What is the temperature range of the sensors?

Our temperature sensors measure from -55°C to +80°C. Contact us if you need a specific sensor that measures outside this range.
Remote sensing, finally made easy