How KuNa Fish makes fish temperature monitoring a piece of cake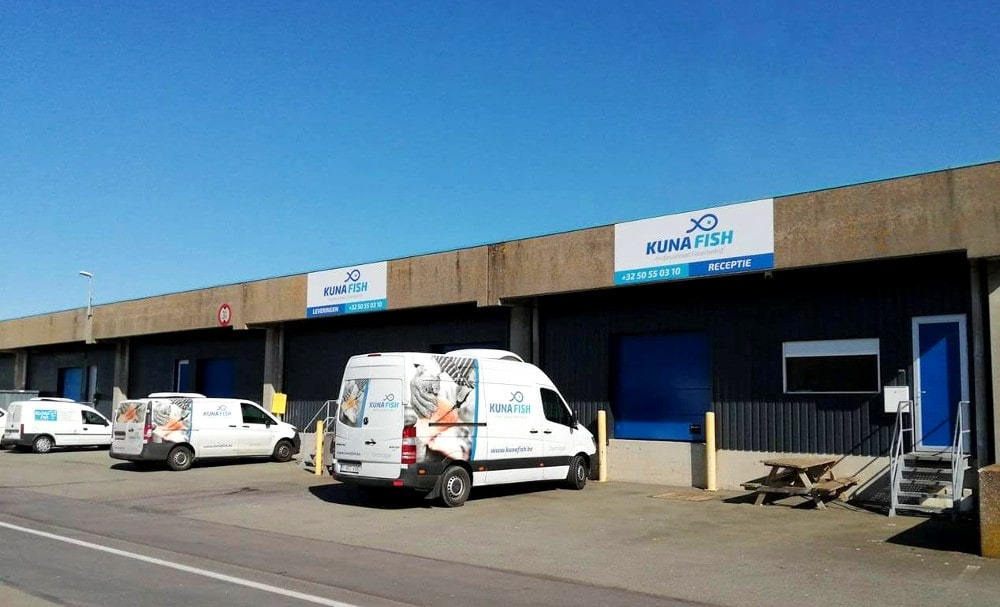 KuNa Fish, headed by Nadine Demandt, is a fish filleting and packing company based in Zeebrugge. The company specialises in processing (filleting, skinning, deboning and de-scaling) and packing fresh fish according to customer requirements. They process 450,000-500,000 kg of fish annually.
KuNa Fish knows better than anyone how strict food inspection is. Especially in fish processing, strict food safety rules must be followed. We even speak of specific standards within the fishing industry that must be respected: HACCP in fish processing or food safety fish.
For instance, the temperature at which fish is processed and stored must be closely monitored: seafood temperature monitoring. These temperatures have to be noted regularly. Doing this manually takes a lot of time.
Don't end up in deep water
Temperature registration is very important in the fishing industry. According to the food safety fish code, the temperature must remain between 0 - 4 °C during storage and below 15 °C during processing. These two temperatures must be measured daily, every hour and recorded with great care.
This temperature used to be noted manually at KuNa Fish. The disadvantage of this is that it is incredibly time-consuming. Besides, humans are humans, who sometimes forget things. It's in those moments that an unexpected inspector would show up. The inspection would see gaps in the temperature log and it was a big problem. The food inspectorate is obliged to make a note in such a case, the company must then draw up a plan of action to avoid this mistake in the future. In short, human forgetfulness in this way leads to a lot of red tape. This is not pleasant for anyone and it costs a small business a lot of time.
Such an unexpected audit occurs 8 to 16 times a year. So as a company, you are under constant pressure. Even if you comply with the HACCP in fish processing rules and strive for the best quality, forgetting such a measurement has major consequences. After all, you have to be able to prove that you have control over the temperature in your company at all times.
Nadine came to us to ask for information about automatic seafood temperature recording with our live monitoring module Reporter. She decided to partner with Crodeon to automatically track the temperature at which fish was processed within the filleting company.
"Reporter is an easy and affordable system that helps us monitor our temperatures. It also saves us a lot of time, which is worth a lot" - Nadine Demandt, CEO KuNa Fish
Nadine installed the system herself in just two hours, five years later it still works as it should. There are now two measuring points at the company (600 m²), which means that two fish temperature monitoring sensors are now constantly measuring during storage and fish processing. This saves KuNa Fish an awful lot of time, effort and headaches.
Since the installation, Nadine has gotten peace of mind, as she pulls that temperature log straight from the cloud to Excel, to PDF. To then be able to hand this document over to the inspector printed out and ready to go. No more manually maintained documents, no possibility of forgetting a measurement. No more stress.
Reporter: be sure to catch the wave
Since KuNa Fish started using Reporter for automatic fish temperature monitoring, a weight has fallen off their shoulders. The ease with which Nadine can hand over a comprehensive temperature log to the food inspection gets her good points regarding the rules around HACCP in fish processing.
"We are especially satisfied with Reporter because of its reliability. We can consult our fridge and production temperatures at any time of the day or night, both via PC and smartphone. Moreover, Reporter warns us in time via the alarm function, should a temperature threaten to be exceeded. Meanwhile, such a monitoring system has even been made mandatory by FAVV and our customers." - Nadine Demandt, CEO KuNa Fish
Nadine finds it easy that all settings can be changed via her smartphone. She is very pleased with Reporter's alarm function. She is at ease because she is confident that Reporter would alert her the moment the maximum temperature is exceeded.
Reporter was developed to be accessible and installable by anyone. The system is plug-and-play and intuitive, making it easy to set up your own recording even without technical knowledge. Manually writing down at what temperature fish were processed within your company becomes a thing of the past.
Nowadays, some customers even ask for a temperature log of the period in which their fish was processed. With Reporter, KuNa Fish can meet this demand in no time, guarantee quality in fish processing and prove that the rules regarding food safety fish were strictly followed.
Fish temperature monitoring, are you going to take the plunge?
Be unburdened and save valuable time by investing in a system that automatically keeps track of everything for you and alerts you when necessary.
Reporter is our remote monitoring sensor module, which streams its data live to the cloud. Our cloud platform, the Crodeon Dashboard is accessible 24/7 via your web browser. Meaning that you can keep an eye on things from your PC, smartphone or tablet. Even if you are currently on the other side of the world.
Reporter has a built-in alarm function, giving you the option to set an alarm notification for when the maximum temperature is exceeded. Reporter will then alert you via text message, voice call or email. This allows you to take immediate action before your fish storage or fish processing room could get too hot.
KuNa Fish has become a true technological forerunner within the fishing industry. Are you also looking forward to getting your peace of mind back and saving a lot of time? Opt for automatic seafood temperature recording. Feel free to contact us via the form or schedule a phone call with our CEO Jonathan.
If you would like to know more about KuNa Fish, be sure to watch the video below and visit social media:
Any questions?
Call us at
+32474097705
Or use the contact form