PAR & plants, is it the right light sensor for you?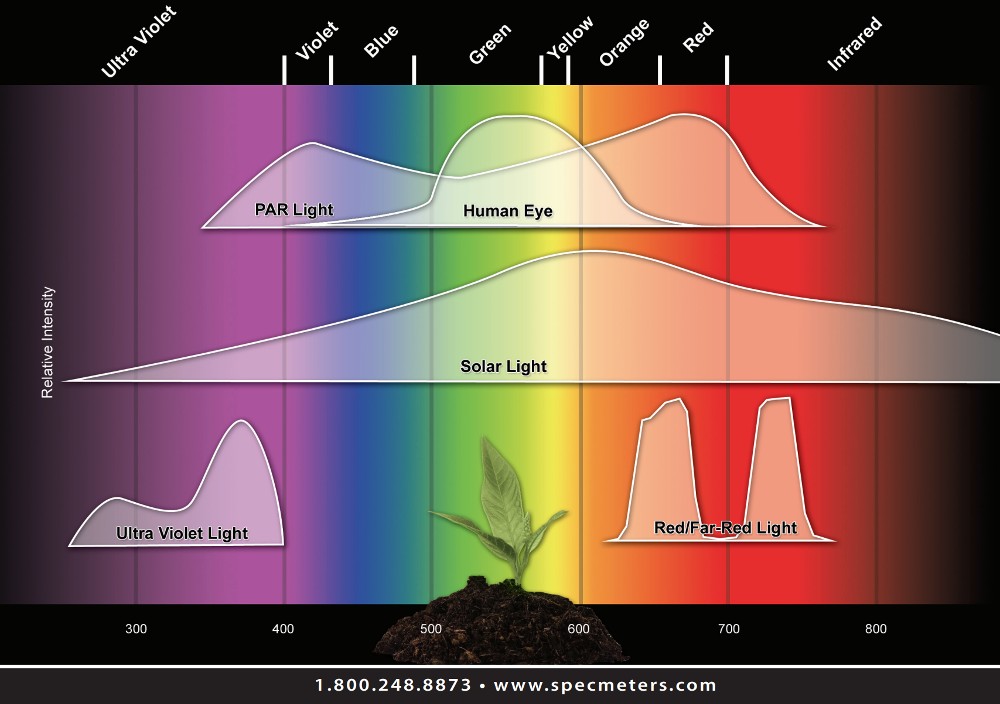 So you're in need of a light sensor, but you're not sure which one. It is important to remember that PAR and lumen are not the same and cannot be substituted. If you want to learn more about lumens and lux, you might want to read this blog first.
Both lux sensors and PAR sensors could be valuable for your set-up. In this blog we will dive deeper into PAR for plants and PPFD, helping you choose the correct sensor.
What is mole?
First we need to think back to chemistry class as both PAR and PPFD are expressed in mole. 1 mol = 6.02214076×1023 elementary entities. These elementary entities are a.o. atoms, ions, photons and electrons. When discussing mole in light, we are talking about photons.
A micromole (μmol) is one millionth of a mole.
Source: Spectrum Technologies
What are photons?
Light is electromagnetic radiation. This radiation can be thought of as a wave or a particle. When light radiation acts as a particle, it is referred to as a photon. When light radiation acts as waves, wavelengths come into play.
The length of the wave changes its properties. When discussing light colours, a blue photon has a shorter wavelength than a red photon. Respectively the waves of blue and red photons measure 400-460nm (blue light) and 580-700nm (red light).
Plants need the energy that is carried by photons to carry out photosynthesis. Chlorophyll is unable to function well under green light (460-580nm) as these waves are reflected by the chlorophyll rather than absorbed. This makes plants appear green. About ten photons are needed to provide enough energy to make photosynthesis happen for one reaction (so one oxygen molecule).
PAR plants
The visible light for humans measured in lumen and lux, is not that important for plants. For plants to grow well, the colour spectrum of the light and the amount of photons are the most important.
PAR (Photosynthetically Active Radiation) is specifically for plants and is measured in micromole per second per square meter.
Source left image: Researchgate
Source right image: Daniele Pugliesi
It is important to note that lumen is a measurement based on the light spectrum that humans can see, while PAR is what plants can experience. As the graph above shows, PAR is a broader spectrum than lumen (and lux). The most valuable light waves for plants happen to coincide with the range that humans are the least able to see, as the left image above shows.
Plants grow best within 400-700 nanometers in the light spectrum. This is because photosynthesis occurs most efficiently within this range. The process of photosynthesis provides energy for plants. Thus the higher the PAR value, the higher the number of photons and how bigger the growth potential.
The right graph above shows the wavelengths at which chlorophyll reacts the most. Chlorophyll b is most active with blue light, and chlorophyll a with red light. Photosynthesis peaks at 400-460nm (blue light) and 580-700nm (red light). Blue light mostly helps the plant grow a healthy root system and a strong base. Red light encourages the production of flowers and fruit.
PPFD and PAR for plants
Let us start off by explaining what PPFD is. Photosynthetic Photon Flux Density (PPFD) for PAR light is the number of photons within the spectrum range of 400 nm and 700 nm per second that land on a defined surface area. It's a measuring unit that expresses the amount of light that triggers photosynthesis, that actually reaches your plant. The PPFD is expressed in micromole per second per square meter (μmol/m²/s).
PPFD for seedlings and PPFD for flowering differ wildly per plant variety. In general, it can be said that seedlings need a lower PPFD than mature plants. Promoting flowering in plants requires an even higher PPFD.
| | | |
| --- | --- | --- |
|   | Photons emitted by light source | Photons reaching the surface |
| Visible to humans | lumen | lux (lumen per square meter) |
| Useful to plants | PAR | PPFD (micromole per second per square meter) |
A PAR sunlight sensor by Spectrum Technologies, compatible with Reporter.
Why your vertical farm or setup needs a PAR or PPFD sensor
You might have just installed the brightest LED panels you could find to illuminate your vertical farm. But as you just read, your plants want PAR, not lumen. A PAR (and PPFD) sensor or meter reads the actual amount of useful photons per second that is emitted by your lamps. Place these meters in between your crops and you'll be able to closely follow up on whether your plants get enough energy. Remember: lumen human, PAR plants!
It's important to remotely monitor your building, setup or farm 24/7. You want to be notified if the lighting fails, causing your farm to be in the dark. Besides, you want to be able to analyse whether your PAR values are actually of the right level. Weeks of insufficient PAR lighting create a growth delay in your crops. Too high a value might even burn more shade-loving plants. Not monitoring your lighting is simply a wasted opportunity.
A remote, mobile and autonomous sensor system allows you to measure PAR 24/7. Such a sensor module is our plug & play system Reporter. Reporter sends its readings to the cloud, giving you the opportunity to check up on your setup in real time. Besides, all the data is logged and able to be exported to Excel. The available data lets you optimise and analyse as much as you need.
Are you looking to plug your existing sensors into a remote monitoring system? Or are you looking for another specific sensor? Please contact us and we'll look into the different options for your specific case.
Par LED sensor. Par sunlight sensor.
Sources
With special thanks to Estede Scientific for the help and information.
Any questions?
Call us at
+32474097705
Or use the contact form