Claim your Reporter on the Crodeon Dashboard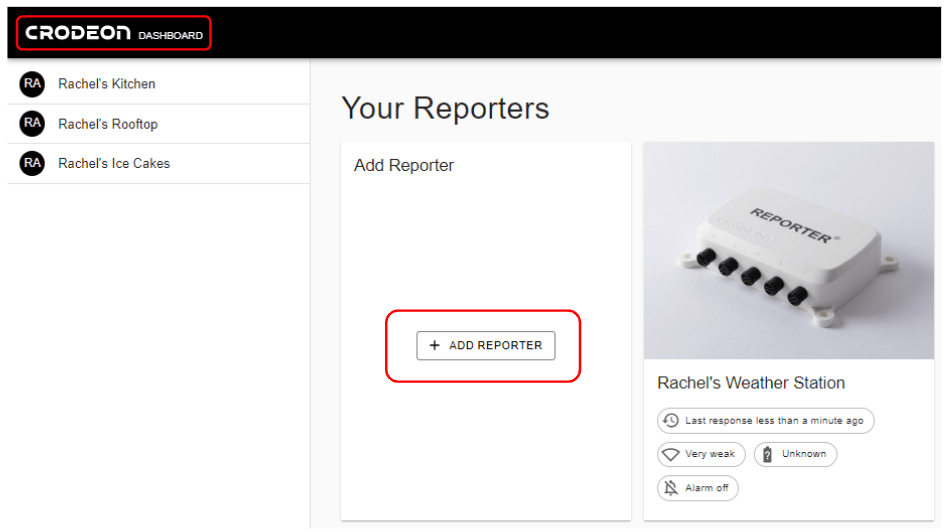 We are giving our customers every tool and functionality to take ownership of their Reporter and sensor data. Plug and play functionality of the Reporter isn't only physical but extends to the Crodeon Dashboard.
Adding your Reporter to the Crodeon Dashboard
Create an account or log in to the Crodeon Dashboard and make sure you have confirmed your account.
Go to your home screen by clicking on the Crodeon logo in the top left corner of your screen. Press "+ add Reporter" and follow the next steps.

Or


Go to your group, click on the three dots and choose "Claim Reporter". Follow the next steps.
Choose whether you want to create a new group or use an existing group. When you create a group, fill in your new group name and press "NEXT". You can always go back to a previous step by pressing the "PREVIOUS" button.
When you have created your group, fill in the serial code of your new Reporter. You can find this number on the left side of your Reporter, just underneath the barcode. Always start with "B4-" and proceed with the 9 following numbers. After filling in your serial code, press the "CLAIM" button and you will see that your Reporter appears on your Dashboard.
Any questions?
Call us at
+32474097705
Or use the contact form