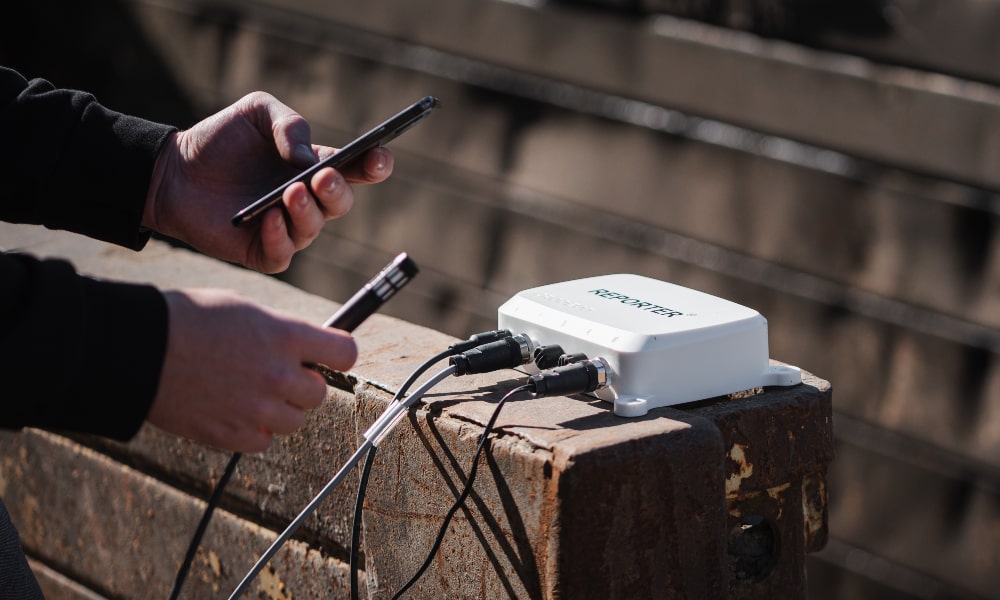 The Internet of Things has a lot to offer, Crodeon offers remotely monitoring your projects. With Remote Monitoring IoT you'll be able to follow up on your projects from a distance, live through the cloud. Choose your own custom set of sensors for your next remote sensing project.
Why you need versatility
Your project requires a custom combination of sensors, but you don't feel like starting a long technological journey? You're not alone. For many companies, the prospect of building their own custom solution and the associated costs are true show-stoppers, so they abandon the project.
Unnecessarily, because versatility is easily attainable with our easy-to-use and customizable plug & play system: Reporter.
A standard solution for these needs
At Crodeon we have a different take on this kind of requirements. The main difference is that our products have a built-in versatility that allows us to fulfill these custom needs of our clients with a standard end-to-end solution. End-to-end means hardware, connectivity and cloud all-in-one. Remote Monitoring IoT at its finest!
Connect Reporter to our wide range of sensors for water, weather, indoor climate and so much more. Reporter is versatile, outdoor proof and can be purchased off the shelf. We take care of connectivity, hosting, back-ups and sensors.
Install Reporter, connect your power source, attach your sensors and the system will go live almost immediately. No programming needed, no technical knowledge needed! On our dashboard, you'll be able to follow up on your measurements and adjust the measuring frequency of your data to your liking. You can even add alarm notifications so you'll be alerted when your sensors measure an exceedance of your set limits. You'll stay up to date without wasting any time on unneeded check-ins.
End-to-end from day one
We propose a set of awesome sensors from renowned manufacturers, directly compatible with Reporter. Cloud is included by default because every Reporter leaves our factories with an established and monitored connection. All data is transmitted in real-time to the Crodeon Dashboard. The entire end-to-end process is controlled by Crodeon, including device management.
This approach ensures that you're not wasting any time in the early stages of your project. Start off with success and measure the impact of Remote Monitoring IoT as soon as possible. From there, scale the project or change course with actual results to prove your business case.
Any questions?
Call us at
+32474097705
Or use the contact form