Alarm settings & Measurement intervals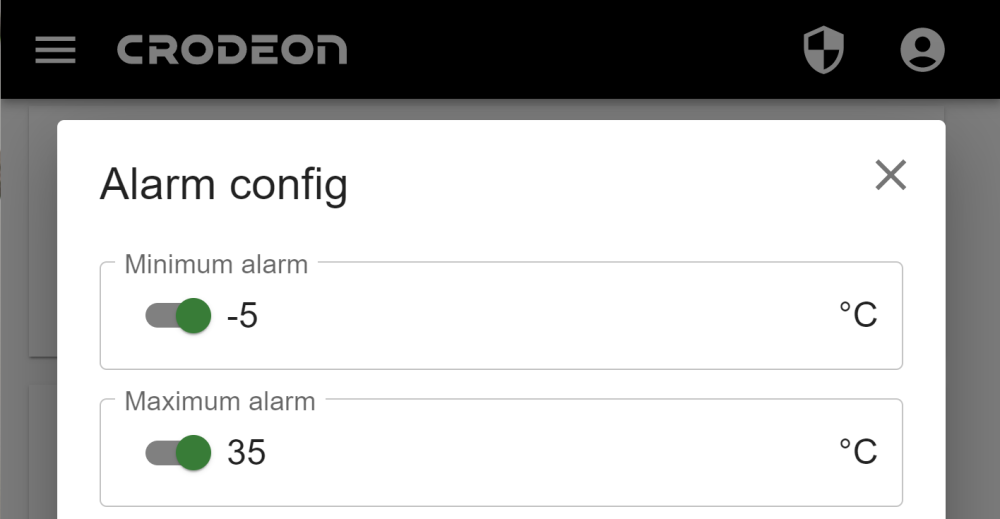 Reporter stands out from all other sensor modules due to its alarm notification function. This means that Reporter can send you an alarm notification through your phone or email. When correctly configured, Reporter will be able to warn you if anything goes wrong with your measuring project.
Configuring alarms and enabling notifications
On the Crodeon Dashboard, you can set a minimum and/or maximum alarm on every sensor measurement. You can opt to set a delay or not.
Before setting up your alarms, you have to install your Reporter and sensors. After about 10 minutes you will see that every sensor appears on the Crodeon Dashboard. Now go to the configure menu of your Reporter.
Configuring alarms
Sensor 1 is a temperature sensor. When clicking on the 3 dots, you can set your alarm. Activate the minimum and/or maximum alarm, fill in your values and save your settings before leaving. Repeat this step for every alarm you want to activate.
Enabling notifications
When you have finished setting up your alarms, you have to turn on your notifications. For this, go to the general Reporter settings next to the title "Configure Reporter". Go to "Notification settings" and enable your notifications. You will have the option to choose the notification mode, type and recipients.
Measurement intervals
To change the interval at which your Reporter takes measurements, you once again return to the Reporter configure menu. Click the three little dots and click "Set measurement interval". A menu will pop up which lets you change the time of the measurement interval.
Any questions?
Call us at
+32474097705
Or use the contact form