A weather station with water level sensor for a marina or harbour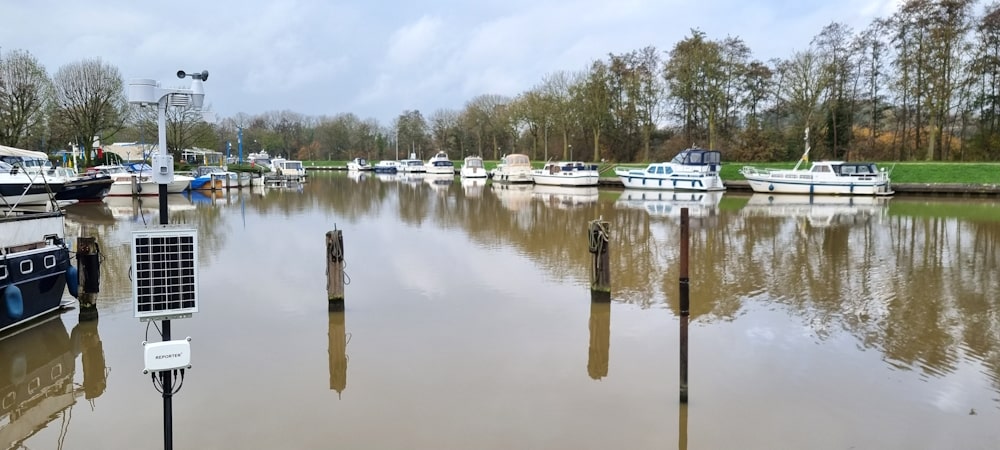 In the dynamic world of boating and maritime activities, ensuring the safety of your customers and their prized vessels is paramount. The unpredictable nature of weather conditions and fluctuating water levels can pose serious threats to both boats and the people enjoying them.
A real-time remote monitoring system keeps an eye on the current weather conditions and will warn you when wind speed starts going off the charts or when the water level in your marina is rapidly increasing.
In this blog we'll discuss the dangers of unmonitored harbours and how you can prevent these horror scenarios for your marina.
One step ahead with a marina weather station
Real-time monitoring allows you to stay one step ahead of Mother Nature. Receive instant alerts about impending storms, high winds, or other adverse weather conditions. This means you can proactively communicate warnings to boat owners, giving them ample time to secure their vessels and evacuate if necessary.
Preventing damage
Boats are highly susceptible to damage during storms. From strong winds to torrential rain, boats left unattended are at risk of collisions, structural damage, and even sinking.
With a monitoring system in place, you can advise boat owners to take preventive measures, such as securing loose items, checking moorings, and relocating to safer areas.
React to rising water level
Sudden changes in water levels can lead to boats running aground, colliding with docks, or cause boats to break free from moorings or docks.
A real-time monitoring system provides crucial data on water levels, enabling you to warn boat owners when the water level is getting dangerously high. This allows them to adjust their boat positions and secure their vessels properly, mitigating the risk of damage.
Protecting against flooding
High water levels, especially in coastal areas, can lead to flooding within the marina. Alerting customers about potential flooding risks empowers them to take preventive actions, such as raising their boats or relocating to higher dock levels.
Happy customers
Investing in a real-time monitoring system not only enhances the safety of your marina but also strengthens the trust and loyalty of your customers. Being updated about whether it's boating weather gives your customers more incentive to come to the harbour to take their boat out for a 'spin'. By providing them with accurate and timely information, you position your marina as a proactive and responsible guardian of their valuable assets.
Insurance providers may also offer more favourable terms to marinas that have robust safety measures in place. A monitoring system that helps prevent damage to boats and marina infrastructure can contribute to lower insurance premiums.
Don't miss the boat: Reporter
A common misconception is that installing a remote monitoring system is costly and time-consuming. It's often the reason why companies put their monitoring project on the back burner for so long. That's before Reporter blew their mind. This user-friendly sensor module for remote monitoring allows you to dive into your own monitoring project with absolute ease.
The device comes with four connectors that let you connect whatever combination fits your needs. To prevent the scenarios described above we recommend the following sensors:
This leaves two open slots for you to connect either more weather stations and submersible level sensors or other parameters from our sensor collection like temperature, distance, leak detection, proximity etc.
Alarm notifications to warn you in time
Reporter's built-in alarm notifications will help you take action quickly and effectively. All settings can be configured in the Dashboard of the Crodeon Cloud. Choose what way you'd like to be notified in case of disasters and Reporter will send out alarm notifications through text message, voice call, or email.
A digital dream
All data is streamed to the Dashboard in the Crodeon Cloud through a reliable GSM connection. Here you're able to change settings like measurement intervals, alarm notifications, and customised sensor offsets. The Dashboard is a browser application that works on your pc, smartphone, and tablet, giving you access to your live and historical data whenever you need it. Say bye-bye to custom software installation!
API as the ultimate automation
The Crodeon Cloud consists of our Dashboard and API, the latter allows you to automate processes as you wish, based on the measurements that Reporter takes. Learn more about API access.
Jump aboard!
In conclusion, safeguarding your marina against the unpredictable forces of nature is not just good business sense; it's a commitment to the well-being of your customers and their beloved boats and yachts. Embrace the power of real-time monitoring with Reporter, and let your marina stand out as a beacon of safety in the maritime world.
Let's work together to keep your company safe and your customers satisfied. Don't hesitate to reach out if you still have any questions.
Read more about our Smart Weather and Smart Water solutions.
Any questions?
Call us at
+32474097705
Or use the contact form