Planning your onion storage facility: 3 things to consider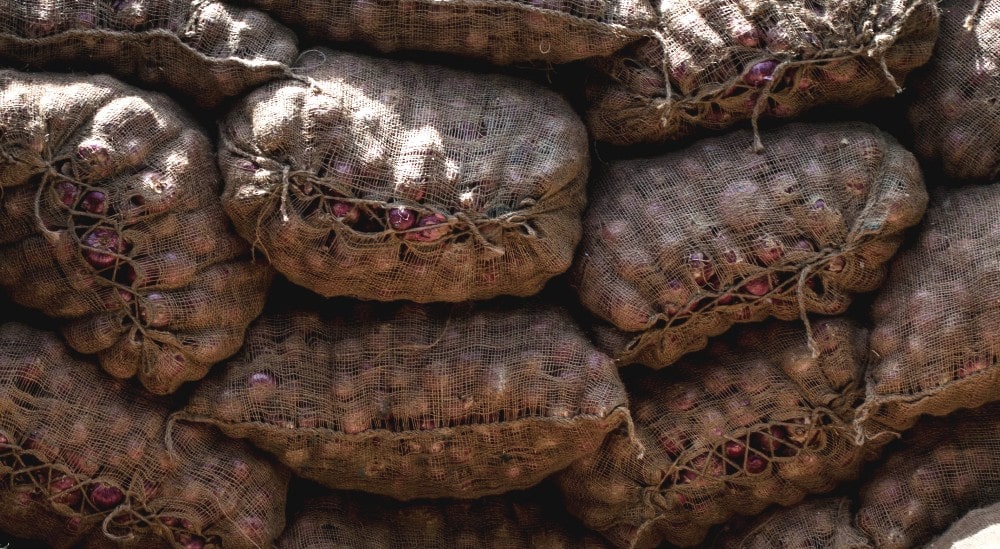 When harvesting your onions after a season of growing them, you want them to last in your onion storage facility so you can get the best price for them. To make sure that this is the case, you will have to keep an eye on certain factors inside your storage unit such as humidity and the temperature for onion storage.
In this blog we will list the three essentials that you need to keep your onions nice and crispy!
1. Measuring onion storing humidity
When storing onions, humidity is a critical factor. Both too high and too low will ruin your harvest and subsequently lower the price you would receive for your products. For measuring humidity you need a humidity sensor.
Too high humidity discolours the peel, turning your onions brown. Even though the onions aren't necessarily bad, they don't look appetising anymore. Therefore buyers won't pay as much for your product as they would for nice-looking onions. The ideal humidity for storing onions is between 50-60%.
We want to keep the humidity levels inside the onion storage facility as low as possible through ventilation. But it's actually unadvisable to over-ventilate your onion storing unit as you'll just be drying out your products. This will result in dry onions that are more husk than the crunchy, juicy bulb they were before.
By over-ventilating your onion storage facility you are literally evaporating your profits.
2. Measuring onion storage temperature
The ideal temperature for onion storage is 2-3°C, but the most important is to keep them at a stable temperature. Too cold will freeze your onions and too warm will cause them to expire more quickly.
Temperature needs to be monitored and regulated in a storage unit. This can happen through active cooling installations or through ventilation based on letting fresh air in. When measuring the conditions outside of your storage unit, you can compare them to the indoor climate and use fresh air to your advantage.
Our client Bert uses a remote monitoring system to measure and control his storage unit. His ventilation system lets fresh air into his storage when the air is colder and less humid outside than inside.
The advantage of using a monitoring system is that Bert receives an alarm notification when the onion storage temperature is too low or too high. This means that he can immediately take action and thus protect his harvest.
3. Remotely operating your ventilation system
Both humidity and temperature for onion storage are crucial factors when keeping your harvest fresh. You need to be able to measure and monitor temperature and humidity inside your storage 24/7. However, you cannot be in your storage unit at all times. A remote monitoring system lets you check in with your produce, sends out alarm notifications, and lets you control your unit from afar. This helps you save both time and money when you don't have to travel or waste time visiting your unit in person.
A relay output module lets you control up to six different electrical systems. Turn on your ventilation system, open ventilation valves to let fresh air in, turn on a heater etc. Everything that you could need to keep your onions safe, you can do remotely.
The versatile and remote monitoring system for your onion storage facility
Our client Bert told us how he uses Reporter to monitor his onion storing unit. He kindly offered to share his knowledge and expertise regarding onion storage temperature and humidity.
Inside his storage unit he measures the temperature and humidity of his onions by using the temperature and humidity sensor. He mounted this sensor onto a 2 m long metal stick, which allows him to insert the sensor into his pile of onions. He measures the temperature and humidity inside of the pile, which gives him the most accurate measurements when it comes to his onions.
Outside his storage unit he uses a weather station to measure the temperature and humidity of the fresh air. When the outside air is colder and less humid than inside, he will open up the ventilation valves to let fresh air in. If the conditions outside are unfavourable, he chooses to keep the valves closed and lets the ventilation system recirculate the inside air.
The bonus that using a weather station gives Bert is that he can also measure rainfall and both wind speed and direction. This gives him more insight into what moments are the most appropriate for working his land and it helps him determine in what direction he needs to place his irrigation reel.
Read his full story here:
Why you can trust Reporter to monitor and measure humidity and temperature for onion storage
Reporter is the user-friendly and reliable solution for keeping your harvest safe. Reporter does this in the following ways:
Reporter sends out alarm notifications when the indoor climate in your storage unit reaches unfavourable temperatures or levels of humidity.
Reporter works autonomously and remotely. This means that you don't need grid power or wifi for it to work.
Reporter is available 24/7. Through the cloud platform, Crodeon Dashboard, you can check and adjust your measurements wherever you are. You just need access to a browser.
Reporter is easy to understand & easy to install. Even when you have no knowledge whatsoever when it comes to electricity or networks.
Our remote monitoring system was designed to be both intuitive and plug & play. It was also designed to be accessible and affordable for small and large businesses alike.
Get started monitoring your onion storage facility today!
Do you want to start monitoring your onion storage temperature and humidity just like Bert? You need these three essentials to get started:
Do not hesitate to contact us if you still have questions, we're happy to help you set up your very own monitoring project!
Any questions?
Call us at
+32474097705
Or use the contact form