Storm & scaffolding: use a weather station to your advantage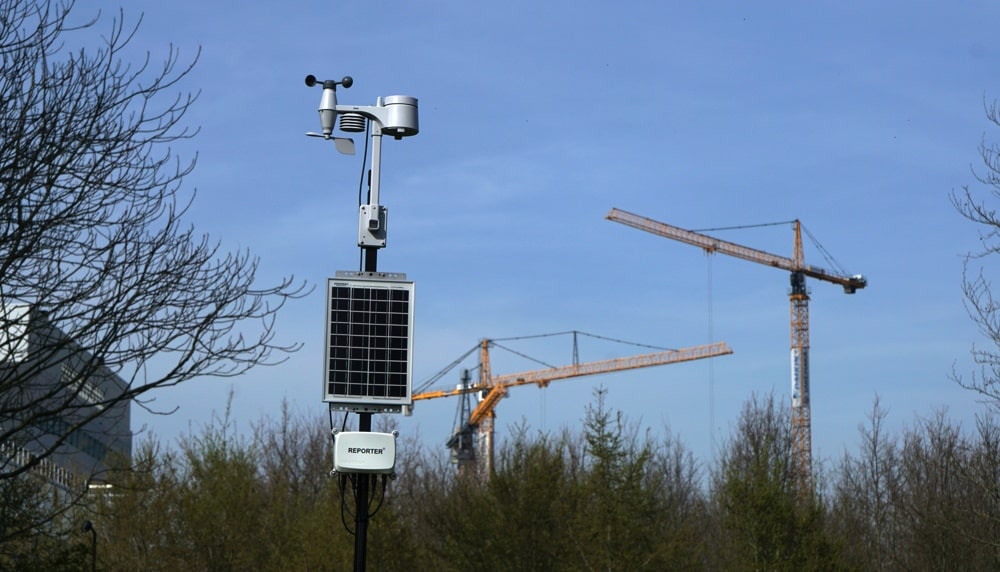 Storm and scaffolding aren't friends. But construction sites and wind exist on the same plane, so complete avoidance is impossible. However, protecting your scaffolding (and cranes for that matter) in advance of heavy storms is a great way to minimize damage.
With your own weather station, you'll be able to look into your own data onsite. This gives you the ability to monitor changes in the weather closely.
Storm & scaffolding
Scaffolding can easily be blown away when it hasn't been properly secured, this means that they require to be anchored to a building. Before a storm banners and foils also need to be removed. Banners essentially turn your scaffolding into a giant sail in the wind.
When monitoring your construction site, small changes in windspeed can easily be noted. This gives you plenty of time to take action and prevent damage.
Crane & wind
Just like storm and scaffolding don't get along well, cranes and wind aren't the greatest buddies. This all depends on whether the crane is on a stable and level underground, and can freely move along with the wind. Cranes should be as free as a weathercock when the weather turns bad. You want your crane to have the least amount of resistance in a storm. Failing to turn off the sway control or sway brakes results in cranes being blown away in storms. If strong winds occur on an active site, the use of the crane should always be suspended.
It is extremely important that an alarm notification is sent out when windspeed reaches a certain limit. This way an employee can visit the construction site to check if all safety measures have been followed.
Smart remote monitoring
To monitor your construction site in order to protect your scaffolding and cranes from extreme weather you would need a personal weather station. An autonomous system that sends data to the cloud, gives you the opportunity to check up on the construction site in real time.
Such an autonomous remote monitoring system would be Reporter. Reporter sends its data to the Crodeon Dashboard, here you will be able to follow up on the current situation onsite. When you install your Crodeon weather station on your construction site, attached to your crane or scaffolding, the weather sensors will be able to precisely measure the weather conditions of that location.
Real-time alarm notifications
Reporter is customisable to your needs, you can set an alarm for the parameters that are important to you. Receive alarm notifications when windspeed increases. When these real-time alarm notifications pop up on your phone screen you can act and react as needed. No matter how unprepared you were for the storm, the scaffolding can still be protected.
Mobile & agile
Your Crodeon weather station is easily moved to another location, meaning you can easily use your system at a new location once your project is finished. Apart from stormy weather, the Crodeon weather station is also particularly useful for registering temperature and rain at a construction site.
Sources:
Any questions?
Call us at
+32474097705
Or use the contact form