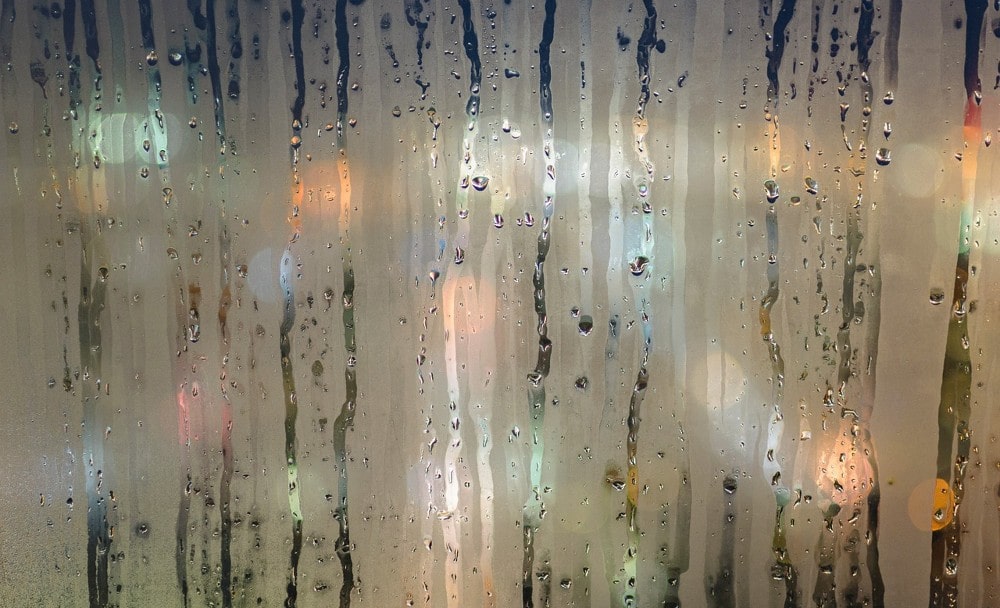 There are several different ways to measure temperature and humidity, one of those ways is dew point or dew point temperature. We'll help you wrap your head around what exactly is dew point.
What is dew point temperature?
Dew point temperature is the temperature at which air is no longer able to hold more moisture. It means that the air is 100% saturated. Dew point is the same as 100% relative humidity (RH), but RH and dew point are relative values.
Depending on temperature and pressure, air can hold more or less water, and thus the dew point (and max RH) moves up or down. For the sake of simplicity the examples below have a fixed air pressure.
Let's look at some examples:
We're in a house. It's 20°C, RH is at 65%. The house cools down without being ventilated, so the amount of water in the air remains the same. However, colder air can hold less water than warm air. So the relative humidity changes. It's now 15°C and RH is 89%. At this point we can see the windows fogging up (when the outside temperature is lower than inside). Lower the temperature some more and we reach 13.2°C with a RH of 100%, which is the dew point. The furniture is covered in water droplets now.
We're outside. It's 14°C, RH is at 42%. It suddenly quickly cools down and no new moisture is introduced. It's now 6°C and RH is at 71.8%. It cools down even more during the night and when we step outside in the early morning the grass is wet. It's 1.3°C and RH is at 100%, which is the dew point.
Relative humidity is determined by how much water air of a certain temperature can hold, when that value is 100% the air temperature is equal to the dew point temperature.
In what cases does one need to know dew point?
Measuring dew point temperature or even tracking it through remote monitoring, can be useful in many different cases.
Agriculture & frost
For farmers, it can be interesting to monitor dew point temperature when their fruit trees, shrubs and crops are blossoming. This is because blossom can easily get damaged due to low temperatures. Even some bacteria, such as Pseudomonas syringae, can induce frost at near-freezing temperatures in high humidity.
The government of Ontario gives the following information:
"When the air is humid the dew point occurs at a higher temperature than when the air is dry. Once dew begins to form, the air temperature begins to drop more slowly because heat is released. When temperatures reach freezing, the dew turns to frost.
If the air is dry, then the dew point will be low. If the dew point is below 0°C, frost forms instead of dew."
So, the lower the dew point, the faster temperature can drop and damage blossoms.
Construction works & drying times
Materials need to dry out to adhere or become fully hardened. This means that they both need to be able to release their moisture into the air as well as stay clear of the risk of condensation. When the RH is too high around these materials, they cannot dry. When the temperature of the materials is lower or equal to the dew point temperature of the air, it will condensate. This can make it impossible for said material to cure.
When your construction company works with materials that are sensitive to moisture, it is extremely important to measure and monitor the RH and dew point temperature of the air. By installing a temperature and RH sensor you can measure and monitor your concrete building project. If the RH becomes too high or the dew point of the air changes and becomes too high, an alarm notification should be sent out. This gives you the time to visit your construction site and install fans or dehumidifiers, heaters or other solutions to protect your work.
Materials that need to be monitored are:
Sources:
Any questions?
Call us at
+32474097705
Or use the contact form