Why you should monitor relative humidity in curing concrete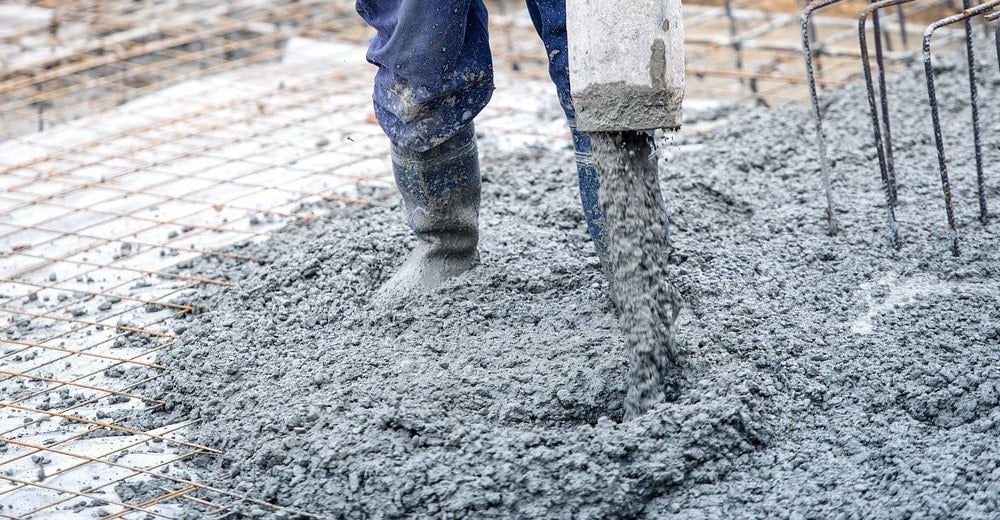 There's no better feeling than finishing up a project. So you just finished pouring fresh concrete, but now it's important to start monitoring the curing process. As a professional, you're probably aware that concrete needs just the right amount of moisture. Not enough water can make your concrete brittle and dry. Too much water on the other hand can make your concrete weak and porous.
To encourage just the right curing conditions, it might be necessary to add water to the surface of your curing concrete or add a dehumidifier.
Why monitoring freshly poured concrete is important
Concrete is formed when certain compounds in the cement mix hydrate, using water molecules. If the water evaporates faster than the cement compounds can hydrate, the mixture becomes dry and brittle. This can cause cracking, shrinkage, and other defects in concrete. The top layer of curing concrete can easily get damaged this way, when it dries out too fast.
At the same time, a concrete mixture that is too wet can cause the concrete to become weak. During the formation of concrete, Calcium Silicate Hydrates are formed, this is a thick gel. When this gel becomes too diluted, it loses its strength.
Why does concrete become too wet or too dry?
Environmental factors such as temperature, relative humidity, and dew point pose a significant impact on concrete curing. As the relative humidity is high it may affect the evaporation rates within the concrete mixture. If the mixture stays too wet for too long, the above-mentioned problems may arise.
Similarly, extremely low relative humidity may cause the concrete mixture to dry out too fast. If this happens, the Calcium Silicate Hydrates do not have enough time to form. This causes the mixture to not be able to reach its full potential, making it to be brittle and dry.
Please note that concrete drying and concrete curing are not the same. Curing is the process in which concrete hardens as the Calcium Silicate Hydrates crystallize within the material.
Influence of the weather
Other environmental factors such as sun intensity, wind, storm or rain can also affect concrete curing. Naturally, rain will add more moisture to the surface of the freshly poured concrete. While a sunny day with a strong breeze can rapidly evaporate moisture from within the mixture, before the Calcium Silicate Hydrates had time to form.
A final environmental factor to keep in mind when pouring concrete is of course temperature. Warm temperatures will cause your concrete mixture to dry out faster, as the water molecules from within the mixture evaporate. Due to hot weather and intense sun, excessive evaporation can take place. The water inside of the concrete mixture will evaporate faster than the compounds in the cement can hydrate and crystallise. In particular, the surface of the fresh concrete is in danger of 'drying out', rather than curing.
Colder temperatures can strongly hinder water molecules from escaping the mixture. This is due to dew point temperature. Dew point temperature is the temperature at which water condensates. The higher the relative humidity, the higher the dew point temperature. The colder the air, the less water vapour it can hold. Therefore pouring concrete in autumn or winter means that the surrounding air has a harder time absorbing the water molecules that are released from the mixture. Meaning that a layer of condensation or water is very likely to form on top of the curing concrete.
The advantages of monitoring curing concrete
To ensure that your construction firm can deliver the highest quality concrete, it would be advisable to implement remote monitoring during the curing of your concrete. This way you can be sure that the concrete meets the required strength and durability standards. Remote monitoring will also help you optimise your construction planning as you are completely sure whether your concrete is dry enough to move on to the next step in your planning.
Relative humidity sensors for concrete curing
A relative humidity sensor can help measure the status of your concrete in real-time. Ideally, this sensor would have some sort of feature that could warn you whenever the conditions during the curing process become sub-optimal. After all, concrete that is weak or brittle does not have the properties it is supposed to have.
A freshly poured concrete floor that is still wet will cause the flooring that is installed on top to be damaged. Excess moisture that is trapped inside the concrete will try to evaporate. This vapour built-up becomes pressurised and can break off the top of the concrete slab. When inspection finds out that your concrete is sub-par, you will most likely have to redo your work. Which causes enormous delays and makes you to have to redo your planning.
These delays can also lead to extra costs. The longer a project goes on, the more it will cost. Staff will have to be paid and machinery might have to be rented. To prevent extra costs from arising, it is beneficial to make the project move along as quickly as possible.
The remote RH sensor can help optimise the use of resources, as you will have to use fewer additives. It helps you reduce costs as you don't need someone to manually measure the relative humidity in your concrete. Besides, it could very well avoid the need for repairs and replacements in the future.
To summarise: monitoring your concrete can reduce costs, prevent delays, prevent damage, and reduce manual labour.
The ideal professional solution: Reporter
Monitoring curing concrete needn't be overly complicated. Modern solutions that will assist you and your crew are readily available. One such solution is Reporter, our sensor module for remote monitoring.
Reporter's key features are sure to make you fall in love with it. Reporter was designed to make life easier, meaning that setting up your measuring projects becomes a breeze.
Connectivity
Don't worry about internet & connectivity, Reporter uses cellular data to transfer its measurements to the cloud. There is no need to acquire a Wi-Fi connection.
Especially when your construction site is in the middle of nowhere, where no power grid is available. Or where power is unreliable, this can be a huge advantage.
On the Crodeon Dashboard, which is our cloud platform, you can view your life measurements or export and analyse historical data.
Power
Speaking of power, Reporter is compatible with both solar power as well as grid power. When you choose the solar-powered option, Reporter comes with its own small but powerful solar panel. The grid-powered option uses an adapter plug.
Alarm notifications
In the Crodeon Dashboard, you can adjust any settings you want. Such as measuring interval or alarm thresholds. Alarm notifications will keep you up-to-date, 24/7, about your fresh concrete.
Reporter's real-time alarm notification feature, can help your construction firm quickly identify any issues during the curing process. This prevents future problems or significant delays in your planning
Combined measuring
Reporter has up to four connectors, to which you can connect up to four sensors. This means that in addition to a relative humidity sensor, you can also attach a weather station for your construction site, a submersible level sensor, and an ultrasonic flow meter.
This way you can combine all of your measuring needs into one single device: Reporter, the ideal professional solution.
A concrete plan
Materials are expensive and your time and effort are costly. It would be a waste to have to redo all the work of pouring new concrete and having to wait for it to cure all over again. A simple remote monitoring device like Reporter, which keeps you posted about the conditions at your construction site, will save you a lot of time and money.
Stop sending someone over for manual measurements, when Reporter can do all of this for you. Leave your construction sites with peace of mind, as you can trust in Reporter to be your extra pair of eyes.
Are you ready to make your construction site smarter with remote monitoring for concrete curing? Don't waste any more time and contact us today.
You might also be interested in:
Read more about the effects of humidity on curing concrete:
Influence of initial curing humidity on compressive strength and ultrasonic properties of concrete. 2014
Das, Bibhuti & Singh, Devendra & Pandey, S.P.
Indian Concrete Journal. 88. 48-55.
Any questions?
Call us at
+32474097705
Or use the contact form