A weather station with solar panel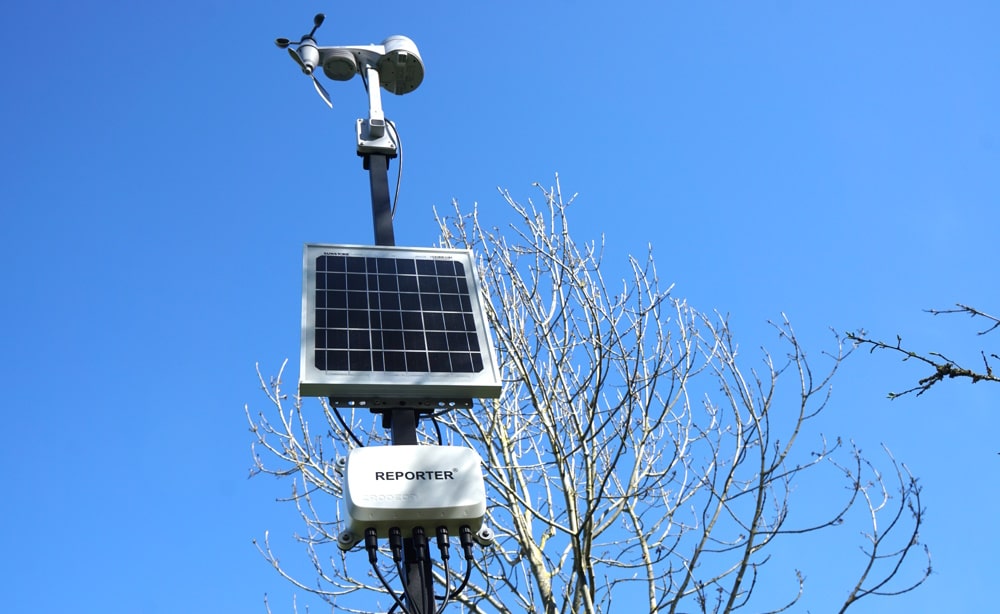 It's often with a specific reason in mind that we look for a weather station with solar panel. The location where we want to use the weather station is most likely to be remote, off-grid, hard to reach etc. Grid power and an internet connection through WiFi are unattainable.
A cellular weather station that is solar powered gives you a lot more freedom about where to place it. It functions independently and thus can be used in situations where a grid powered weather station could never work. When choosing a solar powered weather station, it can be used for various purposes such as agriculture, weather monitoring, climate research, construction, and disaster management.
In what situations would one need a solar wireless weather station?
A wireless weather station that uses solar power is ideal when grid power is unavailable or extremely hard to keep up. Or the distance to the nearest main power lines is simply too great.
When grid power is unavailable, a stable WiFi connection is nearly impossible. A solar powered cellular weather station that uses the GSM network would solve that issue. Through the GSM network a stable connection is obtained and maintained. This allows the weather data to be sent to the cloud at regular intervals.
A cellular weather station that is solar powered is suitable for use in remote, off-grid locations where:
Access to an electrical grid is limited, unreliable or unavailable.
Installing grid power would disturb wildlife or the landscape.
A stable WiFi connection is unavailable.
Cellular network coverage is available.
There is a need for independent, sustainable, and reliable weather data collection and transmission.
In what locations would one need a solar powered weather station?
Remote, off-grid locations however, often leave no other choice. The following locations might require the use of a solar powered cellular weather station:
Agricultural fields and ranches.
Festival and event sites.
Remote wilderness areas and wildlife preserves.
Coastal and offshore environments.
Disaster response and recovery sites.
Climate research stations in remote regions.
Mountaintops and other high-altitude locations.
On top of a building.
In populated areas, a weather station (on top of a building) could run on grid power. However, there is one important reason why a solar panel would be a better choice: lightning. Every high point, mounted on top of an already high place can attract lightning. If your weather station is not connected to the power grid, your building's power grid is not impacted in case the weather station would be struck by lightning.
Battery-powered vs. solar powered
When grid power is unavailable, the use of electronics starts to get more complicated. Your weather sensor is in need of an independent power supply. Two options remain: solar power or internal batteries. But there are still quite a lot of differences between these two options.
|   | Solar power | Battery |
| --- | --- | --- |
| Independent after installation | Yes, if there is enough daylight.* | No, batteries need to be replaced regularly/eventually. |
| Data transmitting frequency | Up to every 30 seconds. | Up to every hour. |
| Live alarm notifications | Yes | No |
| Over the Air (OTA) software updates | Yes | No |
Replacing a battery in a hard-to-reach place is difficult, while a solar panel should need close to no maintenance after installation. So if you were to install a weather sensor at the very top of a mountain, because you want to monitor and measure the weather up there, you'd have to manually change the internal battery of the weather station. Of course, that's no easy mission.
At the same time, measuring the weather at the top of a skyscraper or another higher building gives the same problems. Renting a crane to replace a battery once every year is a waste of time and money.
A weather station with solar panel would be the easier option. A small but powerful solar panel that charges an internal battery that lasts for a few days up to a few weeks. This means that even during cloudy days the weather sensor keeps measuring. The solar panel would provide enough electricity for the weather station to keep working independently.
* Just a few hours of daylight per day are enough to charge the internal battery.
Battery status monitoring
When your monitoring system is located in a remote location, it's important to stay up-to-date about battery status. A system should auto-monitor the status of the internal battery. Meaning that the system is able to send you an alarm notification if something is wrong, like a low battery status. Only if a weather sensor has this feature, you can understand why a system would go offline.
It even allows you to analyse what (light) circumstances cause your battery to not charge enough.
When would a solar wireless weather station not work?
A solar powered weather station with GSM connection may not be an option in the following cases:
Locations with limited or no access to sunlight, such as a heavy tree cover.
Geographical areas that receive too little daylight in winter (polar regions).
Locations where the solar panel would quickly get exceptionally dirty, making it less efficient.
Lack of cellular network coverage in remote areas.
Reporter, the solar powered cellular weather station
If the text above confirms that your sensor project to collect weather data is in need of a cellular weather station that is solar powered, Reporter is right for you.
Reporter is our autonomous and versatile plug & play sensor module that lets you collect data in the harshest environments. It works on both grid power or its own solar panel while its data is streamed to the cloud through a GSM connection. This makes Reporter the ideal candidate when you want to collect weather data in remote locations. Reporter lets you set an alarm when a measured value exceeds your set limits. The system will then send you an alarm notification through your phone or to your email.
One of Reporter's key features is its intuitive design, meaning that you can install the system yourself, without having a technical background. Even if you would want to connect your weather station to internal software, this is possible by using Reporter's API. Worried about battery? Reporter auto-monitors its own battery status. Besides, Reporter even lets you connect up to three other sensors to your weather station. This gives you the opportunity to collect and connect your weather data to other measurements. Measure the effect of the weather on the groundwater level or water temperature.
Are you ready to start using Reporter as your solar wireless weather station? Don't hesitate to contact us if you still have any questions.
Any questions?
Call us at
+32474097705
Or use the contact form