CO2 poisoning in swine and other kinds of pig suffocation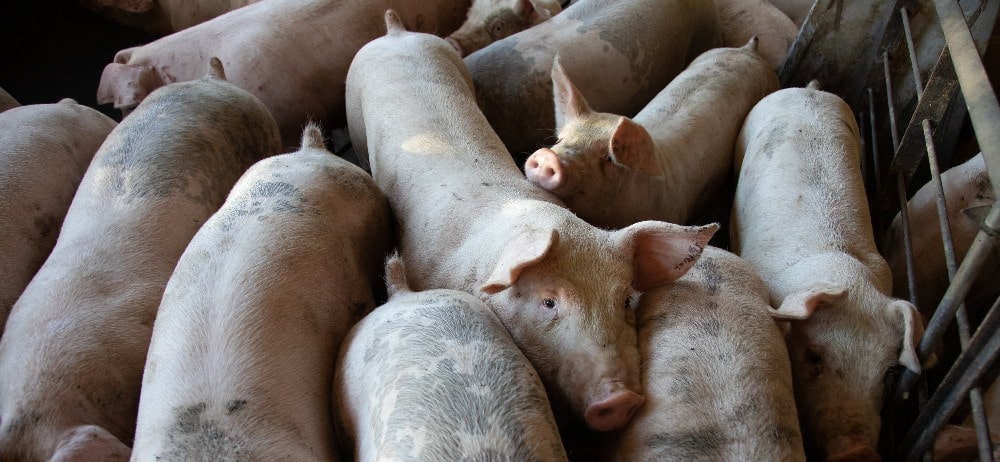 In the summer of 2019, as many as 2100 pigs died due to CO2 poisoning in a village not far from Eindhoven (the Netherlands). A power outage caused a ventilation system failure, which halted the supply of fresh air to the animals. Summer 2021 another 700 pigs died in a barn near Venray (the Netherlands) when an air filter became defective and deprived the pigs of oxygen.
Unfortunately, such scenes of pig suffocation are not exceptional. The cause of death is suffocation, implying lack of oxygen or excessive CO2. The care of pigs today is often automated. This gives the farmer more time to do other jobs, but it also means there is no constant supervision of the animals. If a ventilation system breaks down and the warning is not received in time, the consequences are disastrous.
Every year we hear that pigs died due to suffocation, overheating or barn fires. In this article, we'll take a closer look at the causes of swine asphyxiation.
Understanding Pig Suffocation Risks
There are several risks that can lead to pig suffocation. As a pig owner, it is essential to understand these factors to mitigate them effectively. While pigs are generally hardy animals, they are also vulnerable to a variety of health risks, including suffocation.
Overcrowding in pig pens
When pigs are overcrowded in a pen, they are at a higher risk of being trampled or suffocating. Poor air quality and inadequate space to breathe can be a direct result of overcrowding.
Overcrowding can also lead to stress in pigs, which can weaken their immune systems and make them more susceptible to respiratory illnesses. As a general rule, there should be at least one square meter per pig in a pen. It is also important to consider the size and weight of your pigs, as larger pigs will require more space to move around comfortably.
To prevent overcrowding, consider separating your pigs into smaller groups or investing in a larger pen. Make sure to scale up your ventilation system to fit the size of your barn and amount of animals to prevent pig suffocation.
Ventilation failure in hog, swine or pig pens
Pigs require fresh and clean air to remain healthy. Poor ventilation can lead to the buildup of harmful gases such as ammonia, carbon dioxide, methane and hydrogen sulfide, which can cause respiratory distress and swine asphyxiation.
Especially when ventilation systems fail, this buildup of toxic gases proves to be an enormous problem. The animals will suffer a slow and excruciating death as the CO2 displaces oxygen within the barn. At the same time the ammonia, methane and hydrogen sulfide from manure and urine cause the swine to become unconscious, suffer damage to the nervous system and experience irritation and paralysis of the respiratory system. This CO2 poisoning and exposure to other harmful gases, most likely results in death.
There are of course several ways to improve the ventilation in your pig pen. You could install fans or vents to circulate air, or simply open windows or doors to let in fresh air. It is also important to regularly remove any manure or bedding material that could contribute to poor air quality. But none of these methods will protect your pigs if the ventilation system fails.
To make sure that you can prevent catastrophes like mass swine asphyxiation from happening, you should opt for a system that measures CO2 levels in your barn and alerts you when a certain threshold is reached. There are even systems that can detect a power outage in your farm, so you get a warning that your ventilation system just shut down.
Preventing CO2 poisoning in hogs with an early detection system
There are already several detection systems on the market that can keep your farm safe. Equipped with CO2 sensors, power outage detectors and temperature sensors, this system will alert you when your animals are in danger of pig suffocation. Whether your ventilation system failed or a fire breaks out, these systems know what's going on.
Reporter as an early detection system
Our sensor module for remote monitoring, Reporter, is such an early detection system for high CO2 levels, power outages, or farm fires. Reporter allows you to connect up to four different sensors like: a temperature sensor and a CO2 sensor to check the level of toxic gases and the temperature in your pen to prevent pig suffocation. Many additional sensors are available that can help out on your farm, water level sensors, pressure sensors, limit switches or lux sensors for in a barn.
Reporter streams all its data live to the cloud. This cloud platform, the Crodeon Dashboard, lets you look at your data 24/7. The Crodeon Dashboard is simultaneously the place to alter the settings of your Reporter device. You can set measuring intervals and enable alarm notifications that will reach you through a call, an email or text message.
Stop swine asphyxiation, start measuring now
Are you ready to take a step towards smart agriculture, making your farm safer and more technologically advanced? Don't hesitate to contact us and we'll gladly help you get set up.
Sources:
Safety in Swine Production Systems
Kelley Donham, Robert Aherin, David Baker & Glen Hetzel
Toxicities Caused by Gases
Iowa State university
Any questions?
Call us at
+32474097705
Or use the contact form