Easy environmental monitoring for a server room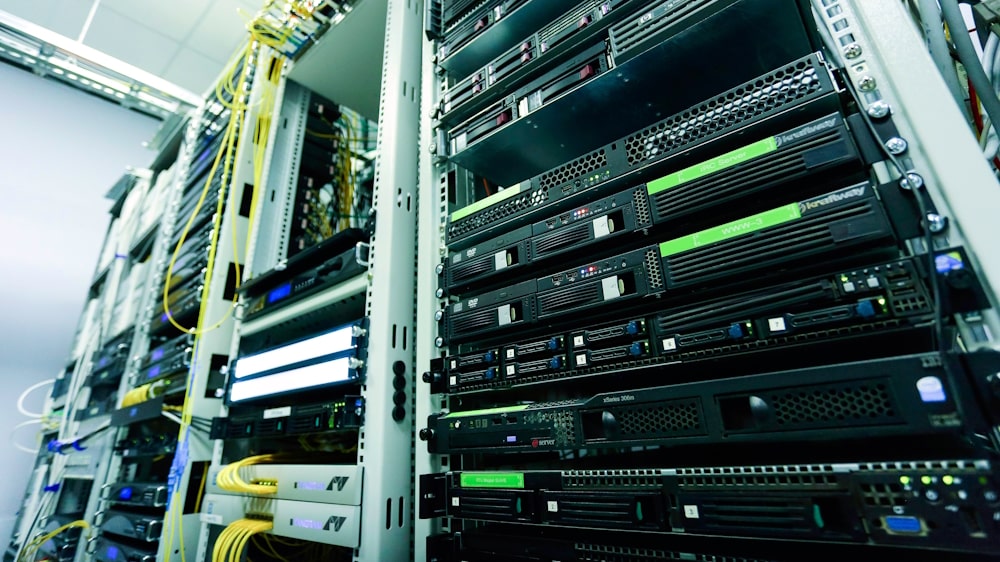 You wouldn't want to fry your servers on a hot day, no? But neither do you want to turn your data centre into an energy-hungry fridge.
The art of sustainable server room management is keeping your room at the highest possible temperature without risking your systems to overheat. This is where server room monitoring comes in, a handy tool to watch over your equipment.
Why you should monitor server room temperature
Without data and computing capacity, a business would be stuck in the dark ages. Monitoring your server room to ensure an ideal environment should be your priority for smooth data access and longevity of your equipment.
Server room monitoring solutions can help you prevent downtime by keeping you up-to-date about temperature and humidity in your server storage room. Simultaneously it prevents your expensive equipment from becoming damaged beyond repair.
Prevent data loss
Servers that become unresponsive due to an undesirable server room environment won't process or save new data, which might cause your staff or customers to lose data. To make matters worse, old data can also become corrupted, which is an outright disaster when crucial data disappears.
Prevent outages
When a server is down this can have enormous consequences for a business. Staff can't work, your website or hosted files and software might be inaccessible, and your reputation will likely suffer, to cover a few unpleasant consequences. This results in lost revenue, productivity and face.
Preventing heat-related downtime can quite easily be achieved by installing a temperature monitoring device for your server room.
Save money
When servers overheat to the point of no return, all you're left with is a very pricey brick. This damaged equipment will have to be replaced to replenish your server rack and capacity. Monitoring server room temperature prevents these financial setbacks.
A server room monitoring system
Let us introduce you to Reporter, our versatile sensor device for environmental remote monitoring. Start tracking your server room environment to keep an eye on factors such as:
Reporter is plug & play, which means that you can easily connect and swap whatever sensors you wish to use. Its four M12 connecting ports allow easy and smooth customisation of your personal device, without requiring any technical knowledge.
The independent system uses the GSM network, which means that it is unaffected by WiFi or Ethernet problems. It connects to grid power and has an internal battery that allows the device to stay online for an extended period of time, until grid power is restored.
Reporter as a standalone server room environmental monitor system for your data centre means that it independently keeps reporting, even if your network, power, or WiFi are down. Last but not least, Reporter comes with a handy rest API.
Alarm notifications
A monitoring system without alarm notifications won't help you keep your server room protected, which is why Reporter comes equipped with a multifaceted alarm feature.
Whenever temperature, humidity, or dew point measurements exceed your set threshold, Reporter will send out an alarm notification. The limit switch can be used to send an alarm when a door remains opened for an extended period of time. Reporter even has a built-in power cut detector.
Being fully customisable to your liking, Reporter will trigger a voice call, text message or email.
Data logs in the cloud
Reporter streams its data to the cloud platform, better known as the Crodeon Dashboard. All this live and logged data is accessible 24/7, historic data can be downloaded through the Excel export function. This means that you can easily dive into all environmental logs when you want to examine them to discover any patterns.
A user-friendly web app
The Crodeon Dashboard is where all your measurement customisation happens. You can adjust measurement intervals (every 30 seconds - every two hours) and set alarm notifications to warn you about undesirable temperatures or opened doors.
The Crodeon Dashboard is compatible with your favourite browser on pc, smartphone, and tablet.
Where to place server room temperature monitors
To get an accurate idea of the temperature in your server room you should install multiple server room sensors throughout the space. This also gives you a better understanding of any hot spots that might be present in your data centre.
Additionally, you should install a sensor near your cooling or climate regulation system to monitor whether this still works as it should, or is actually adding more heat to the environment!
Are you ready for your own server room monitoring system?
Do you want to monitor temperature in a server room to keep your data centre protected? Don't hesitate to contact us, we're at your service!
Any questions?
Call us at
+32474097705
Or use the contact form